LONDON was blockaded by a major protest yesterday but there was not the slightest disruption. No one sat for hours in a traffic queue. No one was late getting to work. At least that was the impression given by the BBC News website.
By 4pm, when the Extinction Rebellion mob had been doing their worst since the early hours, the BBC reported that Lambeth and Westminster bridges were blocked and campaigners had filled Trafalgar Square. Not one word about the chaos which would inevitably arise.
Instead, screeds and screeds from the protesters such as actress Juliet Stevenson spouting that this was 'a very wonderful action' and actor Mark Rylance with 'I'm a storyteller and this story dwarfs everything else.'
The BBC website carried just four pictures from yesterday, including one of Ms Stevenson and another of model Daisy Lowe, one of smiling protesters holding a banner and one of police in a deserted Whitehall. Incidentally the piece was tucked away at the bottom of the UK News front page without a picture to highlight it.
You had to turn to Mail Online or indeed almost any other news website to discover the scale of the vexation these ill-informed and misguided followers of fashion were causing.
The Mail Online headline said: 'Fury as "outnumbered" police fail to stop Extinction Rebellion from shutting down swathes of London', and it reported: 'Commuters vented their fury about long delays and miles of queues as they criticised the XR "hypocrites" causing more pollution by forcing cars to sit idling, while others blasted the "nuisances" who had ruined their journeys across the capital.'
Dozens of pictures showed the extent of the disruption with pop-up tents filling the road outside Westminster Abbey, and protesters being carried away by police. Apparently one of their tactics is to refuse to walk, so that multiple officers are required for each arrest.
The BBC reported that Smithfield Market, London's big meat market, was 'occupied' by 500 people, but it was left to Mail Online to say that the event started with a minute's silence for the dead animals there and around the world. I imagine the BBC was too embarrassed by the sheer nuttiness.
The Times website reported that 'protesters shut down the heart of Westminster'.
The Sun website said: 'Angry Londoners today blasted the activists for targeting the capital again, despite the UK cutting carbon emissions faster than any other G7 nation.
'The travel chaos forced pensioner Tony, 65, from Vauxhall, to take two buses and two tubes to get to St Thomas's hospital after his normal route was blocked by the eco-warriors.
'The OAP has two broken bones in his foot and had to struggle across Westminster Bridge on his crutches to reach the hospital.
'Tony, who didn't want to give his surname, told the Sun Online: "It's disgraceful. It's a pity they got rid of Boris Johnson's water cannons".'
To think that the BBC was once a byword for fair and accurate reporting. Sigh.
PS: These are the questions that everyone is asking:
How is this allowed?
Stephen Canning ✔@EssexCanning
How is this allowed? 1,57513:31 – 7 Oct 2019 · Chalfont Saint Peter, South EastTwitter Ads information and privacy1,160 people are talking about this
Why are the police just standing there?

Why do these people think they are immune from the law?

Arrest them. https://twitter.com/alextomo/status/1181129128852017152 …alex thomson✔@alextomoLambeth Bridge blocked. Police ringed démo and stopping anyone entering. We have a kettle

Why are the police just standing there? What a joke.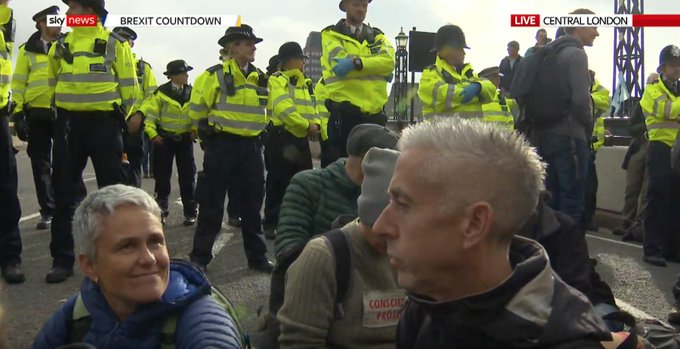 1,04110:12 – 7 Oct 2019Twitter Ads information and privacy500 people are talking about this
We'd welcome replies from lawyers amongst our readership. Does the right to 'peaceful protest' extend to blocking roads and causing mayhem to others?